Kunst & Engagement | Art & Commitment
Musikalisch-literarische Inszenierungen | Musically staged readings

Seit dem Jahr 2000 arbeiten Christiane Schwarze und Eva Batt interdisziplinär zusammen und erschaffen spartenübergreifende Gesamt-Kunstwerke.
Seit über 30 Jahren bringt Christiane Schwarze sozialkritische Themen nachdenklich und einfühlsam auf den Punkt. Dabei bezieht die Autorin unmissverständlich Stellung gegen eine "Gesellschaft, die an sich selbst erfriert".
Eva Batts Vertonungen von Christiane Schwarzes Literatur sind Übertragungen von konkreten Aussagen und/oder unausgesprochenen Intentionen zwischen den Zeilen. – Umgekehrt transformiert Christiane Schwarze Kompositionen von Eva Batt in Dichtkunst.
Dadurch entsteht eine intensive Bezüglichkeit mit entsprechenden Wechselwirkungen von Wort & Ton, deren Inhalte sich gegenseitig verstärken, zu eigenen Assoziationen einladen und den Zugang zur jeweiligen Kunstform erleichtern.
Gemeinsam möchten die Künstlerinnen eine Brücke schlagen zwischen künstlerischem Anspruch und gesellschaftlichem Engagement.
Since the year 2000, Christiane Schwarze and Eva Batt have been working together on an interdisciplinary level to create crossover artwork.

For more than 30 years, Christiane Schwarze brings sociocritical topics thoughtful and perceptive to the point. She takes an unambiguous position against a "society that freezes itself to death".

Eva Batts settings by Christiane Schwarzes literature are transmissions of concrete statements and/or unspoken intentions between the lines. – Conversely, Christiane Schwarze transforms compositions by Eva Batt into poetry.
This creates an intense relationship with the corresponding interactions of word and sound, the contents of which mutually reinforce each other, invite your own associations and facilitate access to the respective art form.

Together, the artists like to build a bridge between artistic aspiration and social commitment.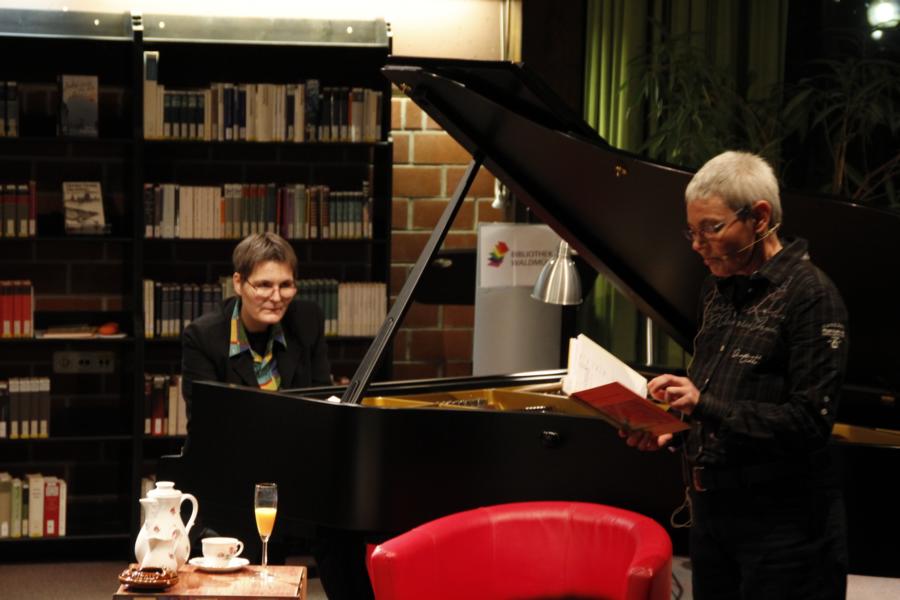 "Der außergewöhnliche Gleichklang von Text, Vortrag und Musik gleicht minimalistischen Wort-Kammerspielen, insistierend in Szene gesetzt".
(Heinz Neidel, Mitbegründer des Instituts für moderne Kunst / Nürnberg).
"The extraordinary harmony of text, lecture and music resembles minimalist word-chamber plays, insistently staged".
(Heinz Neidel, co-founder of the Institute of Modern Art / Nuremberg).
"Christiane Schwarze und Eva Batt waren das absolute Highlight des Abends. Ihre kongeniale Übereinstimmung in Rhythmik, Musik und Sprache, ihre überraschenden wie intensiven "saitlich"-sprachlichen Klangbilder, die durch die stimmliche Eindringlichkeit der einen wie durch die grandiosen Flügel- und Percussion-Einlagen der anderen phasenweise ein Ausmaß an Dichte erfuhren, die wohl jeder und jedem im Raum unter die Haut gegangen und in die Knochen gefahren ist." (Holger Evang-Lorenz, Träger des Bad Godesberger Literaturpreises)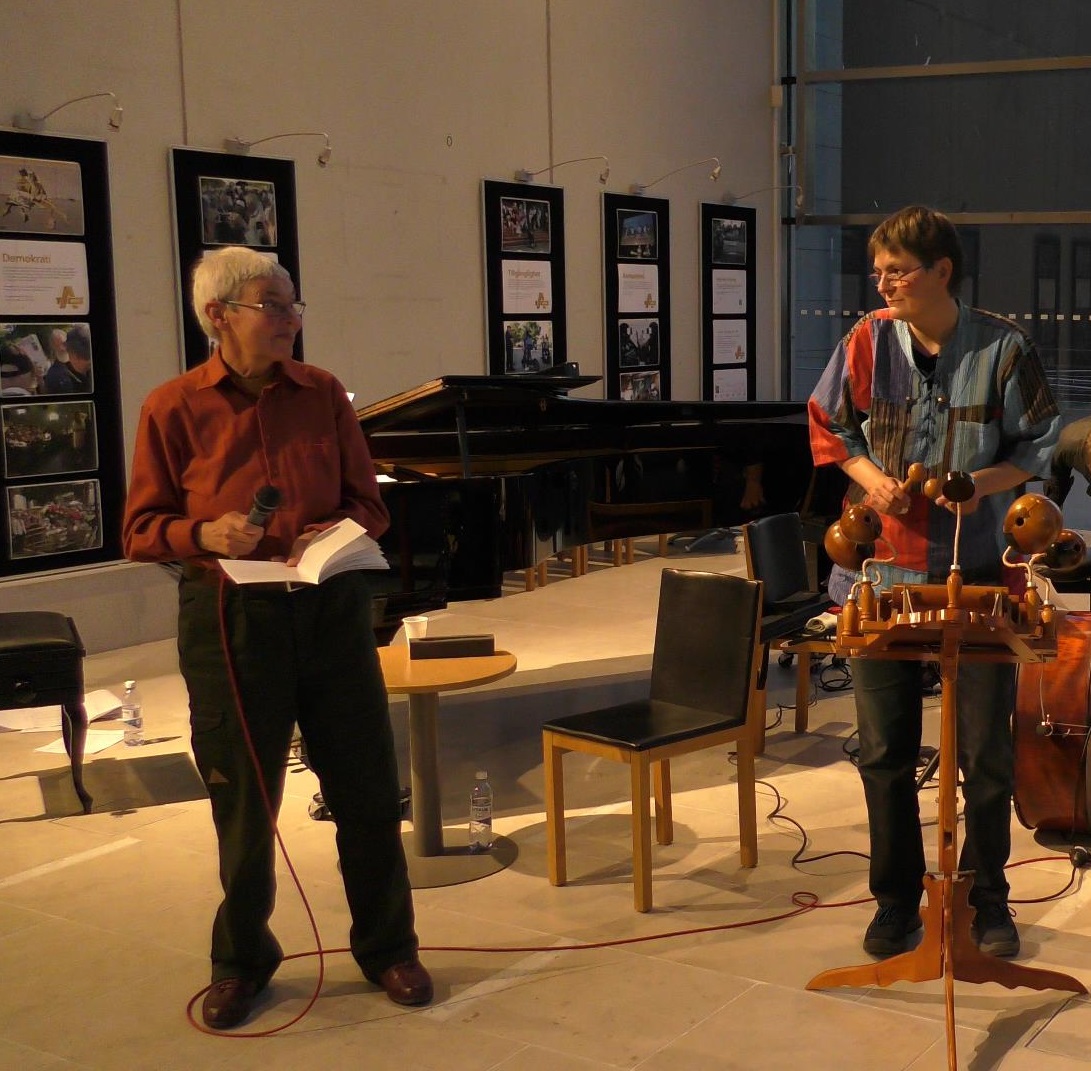 "Christiane Schwarze and Eva Batt were the absolute highlight of the evening. The congenial way that their rhythm, music, and language matched, the surprisingly intense "chordal-linguistic" sound images they created were given such a density through the vocal urgency of the one and the gorgeous piano and percussion playing of the other that got under the skin and even down to the bone of most likely everyone present." (Holger Evang-Lorenz, Winner of the Bad Godesberg Literature Prize)